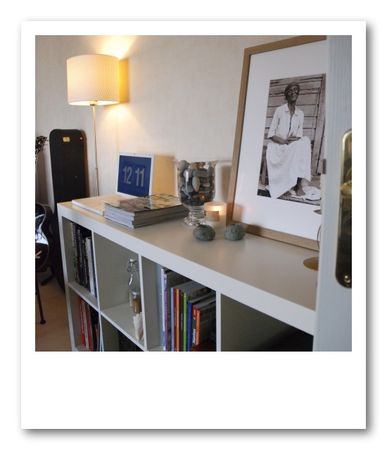 Je ne tiens pas en place, en tout cas pour ce qui concerne ma déco. C'est peut être parce que j'ai beaucoup déménagé dans ma vie ou parce que ce n'est jamais assez bien à mon goût ... ou encore parce que j'aime surprendre mon mari quand il rentre du bureau (même si parfois ça tombe à l'eau parce qu'il jette un coup d'oeil au blog dans la journée ...).
I'm changing my decoration all the time. I like things to move in my home. Maybe it's because I moved so much in my life or because it is never well enough for me or because I like surprising my husband when he gets back from work (even if sometimes he takes a peak at the blog at his office during the day).
Aujourd'hui, j'ai eu envie de faire évoluer mon salon. La pièce n'est pas très grande et essayons d'en tirer le meilleur parti possible. Nous avons un grand canapé (Bo Concept), une grande table basse carrée en bois et en métal, une table à manger en verre, un meuble multimedia bas et modulable (Bo Concept), 1 fauteuil blanc et 1 fauteuil "club", et une petite bibliothèque Expedit Ikea. Jusqu'à présent, nous l'avons installé "debout", notamment pour avoir suffisamment de place derrière notre table à manger.
Today, I felt like giving my living room / sitting room a makeover. The room isn't very large ... so we have to be efficient in our decoration choices and to use all the space possible. We have a pretty big black sofa (Bo Concept), a big square coffee table, a glass dining table, a low media unit, 2 armchairs, and an Ikea bookshelf (Expedit). Until now it looked like this:



En mesurant bien et après quelques manipulations, j'ai réussi à le placer à l'horizontale sans perdre de place. Je trouve ça plus moderne et original. Et du coup, ça me permettra d'"exposer" plus de choses, et pourra éventuellement servir lors des dîners, etc ... Qu'en pensez-vous ?
I just put it horizontally. I think it's more modern and original. And this will allow me to display more stuff (pictures, souvenirs, maybe also wine or food during dinners ...). What do you think ?