Vous vous souvenez du joli tabouret trouvé au dépôt-vente le week-end dernier en même temps que ma commode ? Mais si, mais si, celui avec l'assise en vinyle, style années, euh .. je sais pas, 60, 70, bref le même que ceux de mes grands-parents du temps où ils habitaient encore à la ferme ...
Do you remember the stool I found in the secondhand store last weekend at the same time as my vintage drawers? The one with vinyl, kind of the same that the one my grandparents had when they used to live in the farm in the 70s...
Après un petit tour à Ikéa ce matin, j'ai trouvé un tissu qui lui convient parfaitement, et dont les couleurs me permettront de l'utiliser dans toutes les pièces de la maison.
During a morning trip to Ikea, I've found a great fabric to give it a new/modern look. The colors will allow me to use it in every room of our apartment.
Alors souvenez-vous de l'avant :
This is before :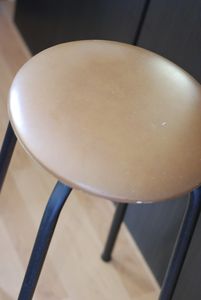 et bien, le revoici maintenant :
here it is after :


Et hop, c'est parti pour un relooking en 10 min chrono, et d'une simplicité déconcertante pour un meuble (presque) tout neuf, et unique (et vraiment pas cher du tout !) :
These are the steps to make this seat brand new in 10 min :


1. Choisir un beau tissu, assez résistant pour pouvoir être tiré au maximum sur l'assise. J'ai du en avoir pour moins de 2€.
1. Pick a nice, quite resistant, fabric. You want it to be stretched pretty strongly on the seat ... I've paid less than 2€ (less than 3$)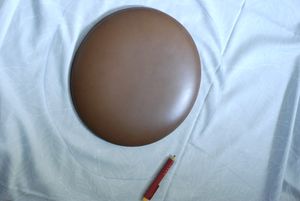 2. Tracer un cercle autour de l'assise, avec environ 10 cm de marge
2. Draw a circle around the seat, with extra 10cm.



3. Bon, là je crois que tout le monde a compris ...
3. well, you got it ...



4. Agrafer le tissu en le tirant au maximum. J'ai bien fait d'investir dans une agrafeuse "murale" ...
(au passage, vous voyez que le pied est fixé avec 4 vis, donc vraiment pas sorcier à désolidariser)
4. Staple the fabric (stretch it as much à you can)

ET VOILA !!

Maintenant, où l'utiliser ? Je pense qu'il va pas mal bouger (j'en parlais déjà dans le précédent article). Quelques exemples :
Now, where should I use it ? I think it will be used in all the rooms (see this article). A few exemples :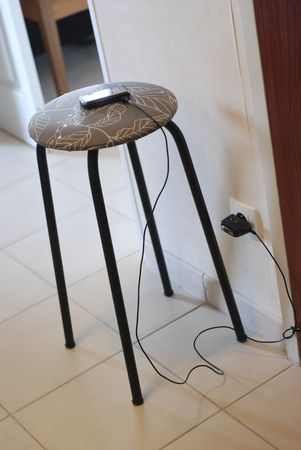 1. Dans l'entrée. C'est souvent là qu'on met nos portables à charger pour ne pas les oublier quand on part de la maison (d'habitude on les pose, euh ... par terre ! Oui, je sais, c'est pas terrible, mais en général c'est pendant la nuit, alors ...)
1. In the entryway. This is where we charge our cellphones most of the time, so that we don't forget them when we leave the house (usually, we just put them, ... well ... on the floor ! I know, I know ... we shouldn't, but we usually do that during the night so...)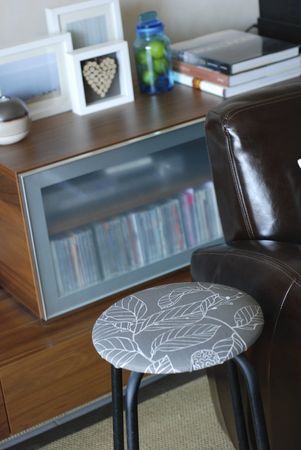 2. Comme siège d'appoint dans le salon
2. As extra seating in the living room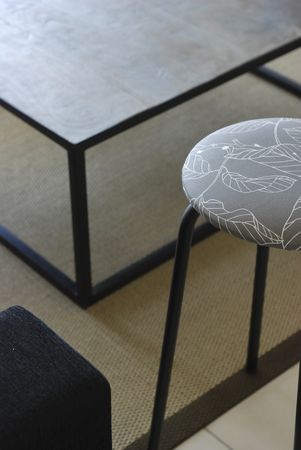 Vous remarquerez que les pieds vont plutôt bien avec notre table basse et notre canapé ! Et moi qui envisageais de les peindre !
The colors work pretty well with our coffe table and our black sofa.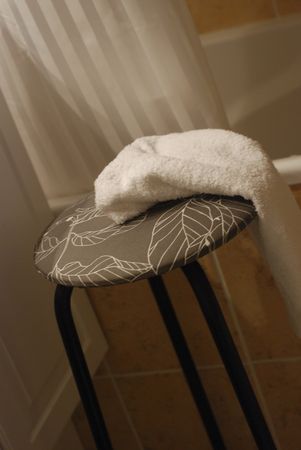 3. Dans la salle de bain
3. In the bathroom for seating during make-up, hair, or tea with hubby while he's getting ready in the morning ...
Alors, ça vous plaît ?
So, what do you guys think ?