Hello ! Je suis de retour de Paris où j'ai passé quelques jours avec ma soeur Gabrielle, qui pendait la crémaillère de son très chic/bobo/super cool nouvel appartement en plein coeur du quartier Montorgueil (et oui, rien que ça !! ça méritait bien une petite fête non ?). Et elle a enfin passé les examens pour lesquels elle a passé l'été à bosser comme une folle. Je croise les doigts en attendant les résultats ...
Hi there ! I'm back from my Parisian week-end at my sister Gabrielle's, who was celebrating her new very chic/supercool studio apartment located in the heart of the best area of Paris called Quartier Montorgueil (she's just a lucky lucky girl, and happens to have the greatest hair too ... I'm not jealous at all, love her anyway ... 'have to, she's my sister ! Just kidding ...). Isn't she gorgeous ?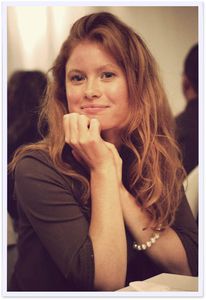 Bref, elle est encore étudiante, donc pas très riche (pas encore !), et il lui manque quelques petites choses pour équiper son nouveau chez-elle. Elle m'avait donc demandé d'ouvrir l'oeil lors de mes séances de chine, au cas où. Je lui ai trouvé une lampe (à 2€) chez Emmaüs lors de ma dernière expédition (durant laquelle j'ai aussi trouvé mon super repose-pieds), et son brief était de lui donner un coup de peps "pomme".
She's still a student, with no money, and she misses a few things for her apartment, so she'd asked me to look for a lamp during my "vintage hunts". So I've found one on the same day that I've found my new footrest. It was like 1,5$, and she asked me to give it a vibrant apple green color.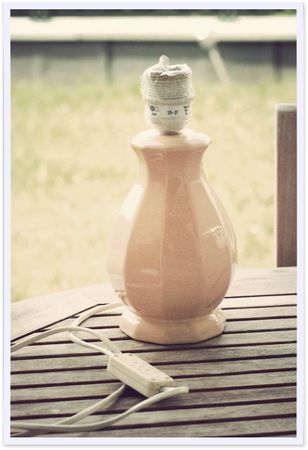 Me voila donc armée de ma bombe de peinture verte, et après plusieurs couches (et beaucoup de patience du coup ...), la lampe initialement orange/abricot/pas très beau a pris un coup de jeune.
So, after many, many coats of spray paint, the apricot/faded orange color was gone, and replaced by this modern green look.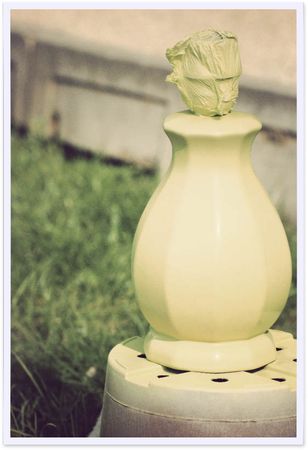 Un abat-jour sobre et moderne, et voilà ! J'ai utilisé le même modèle que pour ma lampe style Tiffany, une taille en dessous.
A new modern white lampshade, and voilà ! I've used the same one that my Tiffany style lamp's, just smaller.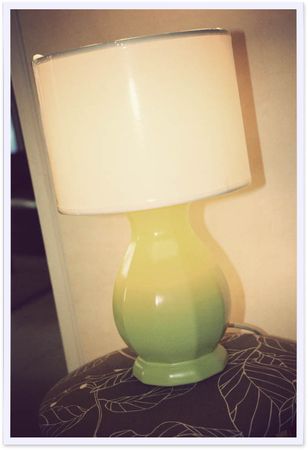 Du coup, comme ile me restait de la peinture verte, je lui ai fait 2 petites toiles toutes simples (en 10 minutes) assorties à sa nouvelle lampe (grâce à des formes dessinées sur du papier, puis découpées et utilisées comme pochoirs "inversés").
And as I had some green paint left, I've created 2 little art pieces in like 10 minutes, to match her new lamp. I've drawn a few shapes and used them as stencils to get simple white shades on green backgrounds.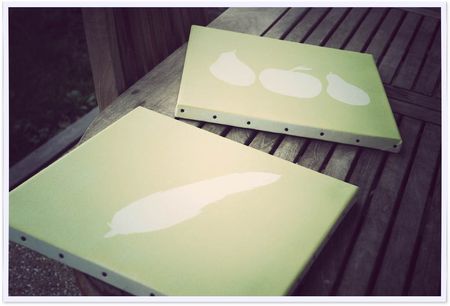 Tout ça lui a bien plu, et la pendaison de crémaillère était très réussie ! Merci pour ton accueil Gab et à très bientôt !
She liked everything, and the party was great ! Thanks for your warm welcome Gab and see you soon !
Picture effects by Rollip.