Ironie du sort ! Mon dernier post portait sur un mini-makeover de mon bureau, en y déplaçant une jolie lampe.
Hi there ! What a coincidence, my last post was about a home office mini-makeover, only involving a (beautiful) lamp.
Et bien aujourd'hui, le changement est plus grand ! Hier matin, en allant déposer quelques objets à vendre à Troc.com, je suis tombée amoureuse ... de ce bureau années 50 !!
Today, the change is gonna be much more "noticeable" ! Yesterday morning, I was dropping some stuff to sell at the local thirft store, when I fell in love ... with this mid-century desk !


Rappelez-vous, avant notre bureau était comme ça :
Remember how our office / guest room was before :




Ca a quand même plus de personnalité comme ça non ? Et c'est moins sombre ...
This new desk brings so much more personnality, style and light to very-Ikea-style-room !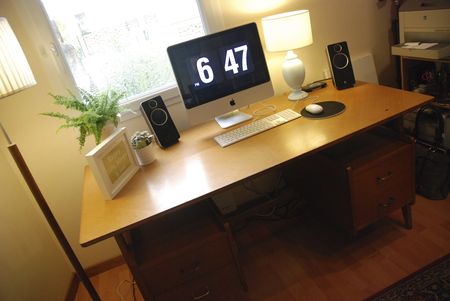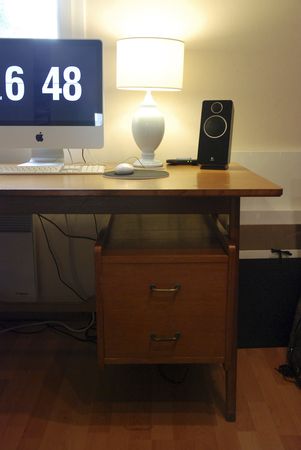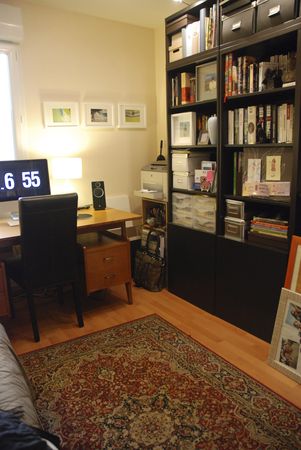 Tout à fait le style que j'aime, et je commençais à me lasser de mon total look Ikea dans notre chambre d'amis / bureau. Il a un petit côté design nordique que je trouve très sympa et je pense qu'il est d'inspiration Milo Baughman, vous ne trouvez pas une ressemblance ? (avec environ 2 zéros en moins ... j'ai payé le bureau 60€ !!)
It's exactly the king of design that I like : mid-century, with a little danish design look (in my opinion), and a lot of Milo Baughman inspiration (and a much lower price, less than 60$).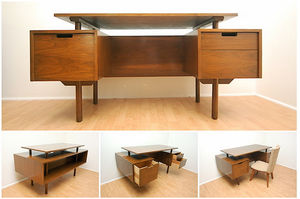 Du coup, je vais me mettre en recherche d'une nouvelle chaise, qui ira mieux dans le style et cachera moins les lignes sobres du bureau. Et je vais aussi sans doute changer le tapis, je vais peut être en prendre un plus grand (qui atténuera la différence de bois entre le parquet le meuble). Le tapis actuel vient lui aussi d'Ikea - et oui, nous n'avions pas de 2ème chambre quand nous habitions à Paris, alors nous avons meublé au plus simple quand nous sommes arrivés.
Bref, de belles séances de chine et de déco en perspective !
So now, I need to find another chair (perhaps more 50s look and less high, I'll post some suggestions ..) and also a new rug, maybe a bit larger than the today, to reduce the difference between the wooden floor and the desk. The current one is also from Ikea : when we were living in Paris, we didn't have a 2nd bedroom, so we furnished this one as we could when we moved in, we were working so hard at that time, we didn't have the time to look for better stuff ....

I'm so excited by that hunting to come !
En bonus, quelques inspirations de bureaux vintage (trouvées sur Houzz) / Check out those mid-century home office pictures (found on Houzz)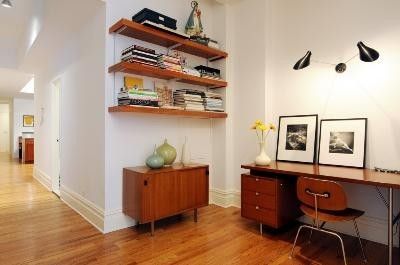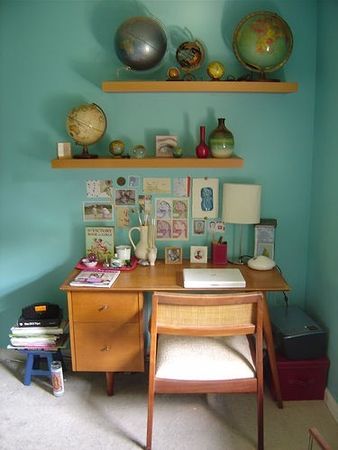 I still have to work on my decoration, when I see those gorgeous pictures ...