Et bien, cette semaine est vraiment bourrée de surprises. Je devrais jouer au loto ... Après avoir trouvé un guéridon, un super bureau (et d'autres babioles dont je vous parlerai plus tard), j'ai trouvé aujourd'hui à Emmaüs 2 petits chevets années 50, assez petits pour aller de chaque côté de notre lit (et il n'y a pas beaucoup de marge ...).
Je n'étais pas la seule à lorgner sur ces merveilles ... alors à 15€ les 2 (et oui, LES DEUX !), je n'ai pas hésité longtemps.

Boy, I'm so lucky this week !!! I might win the lottery (if I bet) ...
After having found a pedestal table, a gorgeous mid-century desk, (and other little things I'll show you tomorrow), today I ran into these pretty bedside tables (at the local second hand store - similar to Salvation Army in the US), small enough to fit on each side of our bed (which in itself is quite extraordinary given the small room available ...).
I wasn't the only person interested, so at less than 15$ BOTH (YES BOTH, what a deal !), I didn't even hesitate !
Alors rappelez-vous de notre chambre avant toute déco - donc le mois dernier (j'ai honte ...) ...
Rappel > Chevet de Monsieur : un de mes meubles d'étudiante peint en marron
Le mien : une travailleuse donnée par ma belle-mère
So remember our bedroom before any decoration (I'm so ashamed ...).
My husband's besdide table : shelves from the time I was a student, painted in brown
Mine : a "sewing-furniture I-don't-know-the-word-in-English-Sorry", given by my mother in law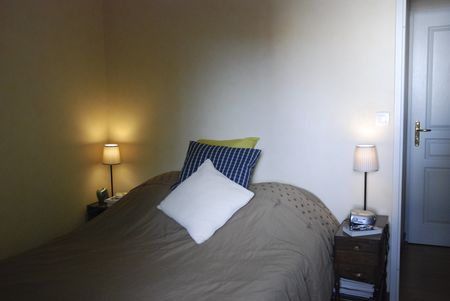 ... puis après "relooking" (voir le post sur la tête de lit ici) ...
... after the DIY headboard (see this post)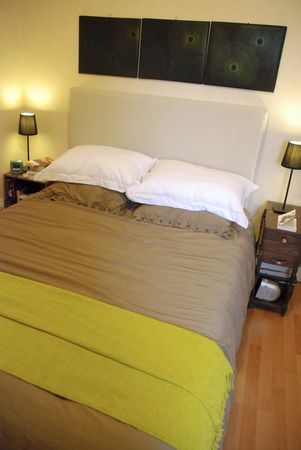 Et bien, la voici maintenant (roulements de tambour ...)
And here it is now !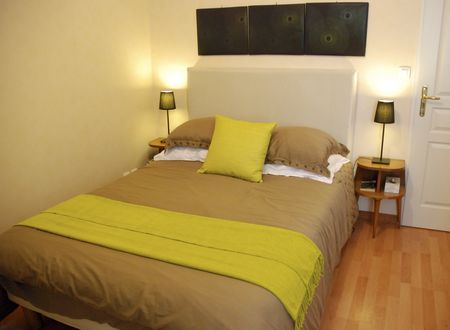 Qu'en pensez-vous ? Je les trouve plutôt sympas, atypiques et pile-poil la bonne taille !
So, what do you think ? I find them quite nice, original and the right size !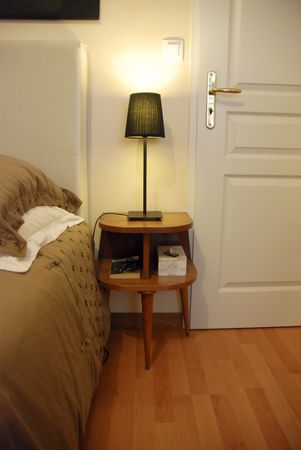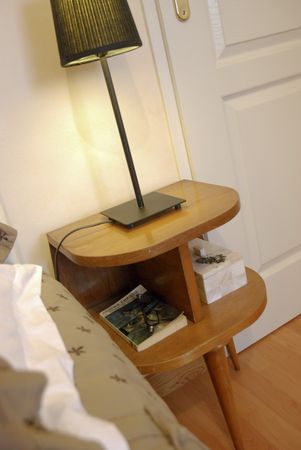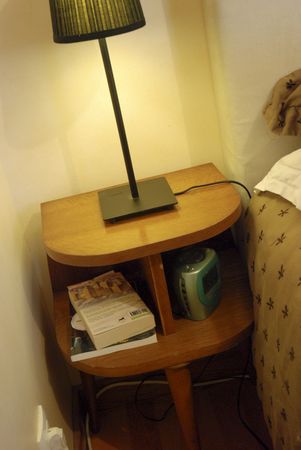 Hit : ugly clock-alarm hiden. Awsome !

Et tant qu'on y est, voici un aperçu du reste de notre chambre.
Here's a glimpse of another side of the bedroom.
Les illustrations sont des cartes postales rapportées de Londres et dont j'ai déjà parlé ici. Cadres Castorama, dispo ici. Les lampes ont été achetées chez Bo Concept, voir ici (-50% à l'époque). Pour la petite histoire du petit tabouret, voir ici.
Prints are from Belle & Boo (see this post), brought from London (frames from the DIY local store ...) Lamps are from Bo Concept, available here (half price when we bought them). The thrifted stool makeover can be seen here.