I don't usually feel so great about my body, but ever since I got pregnant, I don't care anymore about my curves, I even enjoy them ! Of course, I use many lotions and oils to prevent stretch marks ...
Je ne suis d'habitude pas particulièrement à l'aise avec mon corps, mais bizarrement, depuis je suis enceinte, mes courbes me gênent beaucoup moins ... mieux que ça : j'en suis fière ! Bien sûr, j'applique religieusement des crèmes anti-vergetures au cas où, car tout ça pousse très vite !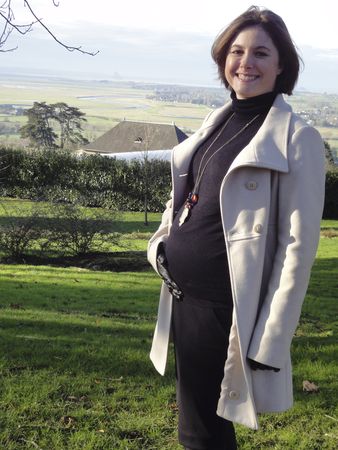 I started showing quite quickly, and now that I'm starting the 2nd trimester, I can't hide anymore my growing belly. I feel great (despite a feet sprain from falling yesterday !!) and even if I can't feel the baby yet, he/she's already the most important person in the world for us ! I still can't believe I'm a mommy-to-be ...
J'ai eu du ventre très tôt (dès le 2ème mois !) et maintenant que j'attaque le 2ème trimestre, je ne peux définitivement plus le cacher ! Je me sens super bien (malgré une entorse suite à une chute chez moi hier, super ...), et même si je ne peux pas encore sentir le bébé bouger, il/elle est déjà la personne la plus importante au monde pour nous ! Je n'arrive toujours pas à réaliser que je vais être maman dans si peu de temps ...
The 1st sonogram was a beautiful experience, especially when we heard this little heart beating so fast ! Here's his/her very first official picture !!
La 1ère échographie a été une expérience très émouvante, particulièrement quand nous avons entendu pour la 1ère fois son petit coeur battre si vite ! Voici la toute première photo officielle de l'héritier/ère !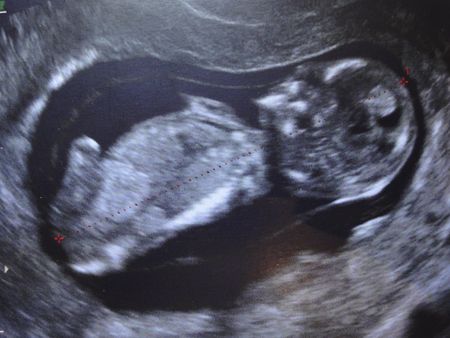 Already so cute (at 10 weeks of pregnancy - about a month ago) !
The baby was moving so much, it was unbelievable to see him/her doing Pilates in my belly without feeling anything !
Next sonogram in February, I can't wait !
Déjà si mignon (écho à 10 semaines de grossesse, il y a 1 mois) !
Le bébé bougeait tellement, c'était incroyable de le voir faire du Pilates dans mon ventre sans rien sentir !
Prochaine écho en février, j'ai hâte !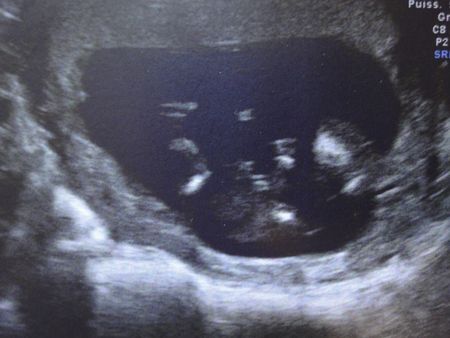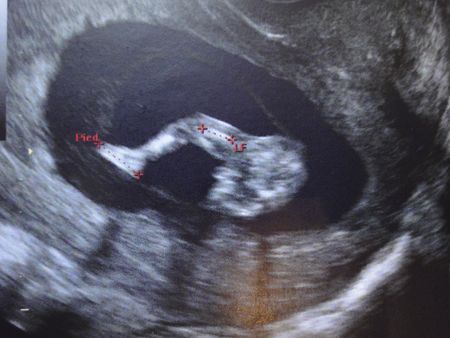 (we don't want to know the sex before the birth, but I have this weird feeling ever since the begining that it's gonna be a boy ... it will be hard to wait until June to find out !)