Another great thing about expecting (besides eating a bit more than usual without feeling guilty - especially when your cravings are mostly clementine/orange related, so I guess it's ok ...) is that it makes you reorganize the entire home to make room for the baby, and it's a great time to get organized and to take advantage of every inch available in the place.
Une autre joie inhérente à la grossesse (au delà des fringales souvent assouvies sans scrupules, d'autant qu'en ce moment, ce sont plutôt des envies d'agrumes, donc ça va ...) est la réorganisation de toute la maison pour accueillir le bébé, et c'est un excellent prétexte pour optimiser le rangement de chaque espace!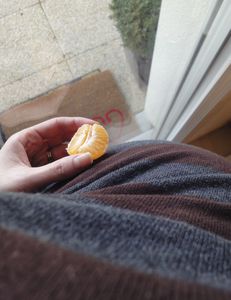 Now, about the nursery itself : we are lucky enough to have a 2 bedroom condo. One of them was until now a guest-room/home office. We've decided to have it dedicated exclusively to the baby, so the bookcase+desk+bed have to go.
Alors, la chambre du bébé en elle-même : nous avons la chance d'avoir 2 chambres. Une d'elles était jusqu'à présent une chambre d'amis/bureau. Nous avons décidé de la dédier exclusivement au bébé, donc le lit+bureau+bibliothèque doivent partir.
the sofa bed was very old, so we threw it away, we will welcome our guests on a air mattress for a while ; le canapé-lit était très vieux - il nous servait de canapé quand nous habitions encore à Paris, et déjà là, il portait bien le poids de ses 20 ou 25 ans ... donc nous l'avons jeté. les invités dormiront sur un matelas gonflable pendant quelques temps.
the desk (found a short time ago in a thrift store) will go in our garage, waiting for a bigger house. The computer will go in our bedroom or in the living-room, we're not sure yet ;le bureau (trouvé il y a peu à Troc.com) sera remisé dans notre garage en attendant un futur déménagement dans une maison plus grande. L'ordi ira dans notre chambre ou dans le salon, nous n'avons pas encore décidé.
but the bookcase is going to be relocated ... in the kitchen ! mais la bibliothèque sera elle relocalisée ... dans la cuisine !
The nursery today (well, actually, it's a lot more cluttered right now, and the sofa bed is already gone)
La future chambre du bébé (enfin, aujourd'hui il y a nettement plus de bazar et le lit a déjà été jeté)
So our first challenge here was to find another place for all our books because in the kitchen the bookcase will be used as a kitchen cabinet and no longer as a library.
Donc, en toute logique, notre premier challenge a été de trouver de la place pour ranger tous nos livres, parce qu'une fois dans la cuisine, le meuble nous servira ... de meuble de cuisine, et plus de bibliothèque.
Our solution : taking advantage of every spare space with basic Ikea shelves. I am now an official-pregnant-Ikea-shelves-building-expert !
Notre solution : tirer parti de tous les petits espaces mal ou pas utilisés de la maison en y installant des étagères Ikea basiques. Je suis donc maintenant officiellement experte ès montage d'étagères Ikea !
Our hall before (view from the nursery)
Le couloir avant (vu de la future chambre de bébé)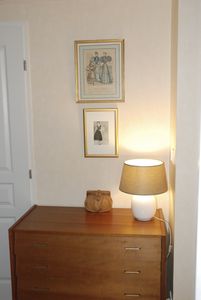 The vintage-50s-chest was also thrifted a few months ago, it will be used in the nursery.
La commode années 50 chinée il y a quelques mois (voir ici) sera utilisée dans la chambre du bébé.


And now with the new shelves - et maintenant avec les nouvelles étagères
Ikea Billy #1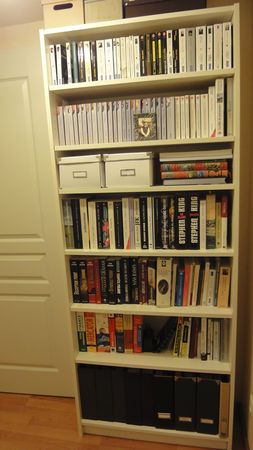 Probably less elegant, but so much more "space saving"
C'est sans doute moins élégant qu'avant, mais quel gain de place !


Ikea Billy #2
At the entrance of the hall
1st door on the right is our bedroom, 2nd one will be the nursery, in the back is the bathroom
A l'entrée du couloir
1ère porte : notre chambre, 2ème porte : la chambre du bébé, porte du fond : salle de bain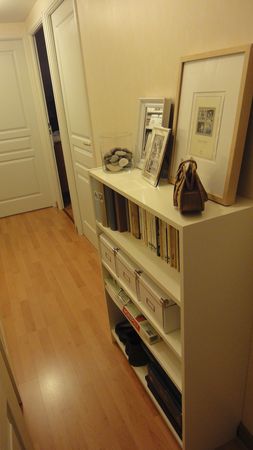 There was nothing there before
Il n'y avait rien ici auparavant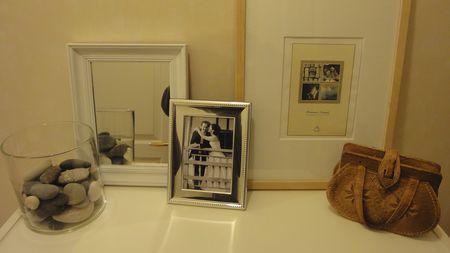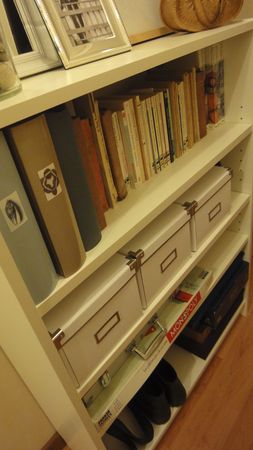 And now the entryway - et maintenant dans l'entrée

Ikea Billy #3
For magazines, keys, mail, and all the junk you need to put somewhere when you come home ...
Pour les magazines, les clés, les emails et tout ce bazar qu'il faut bien poser quelque part quand on rentre à la maison ...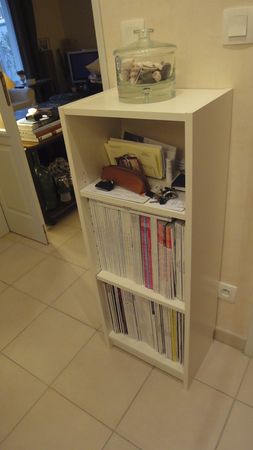 There was nothing there before
Il n'y avait rien ici auparavant


And even put another one in the toilets ! Et nous avons trouvé le moyen d'optimiser ... les toilettes !

Ikea Lerberg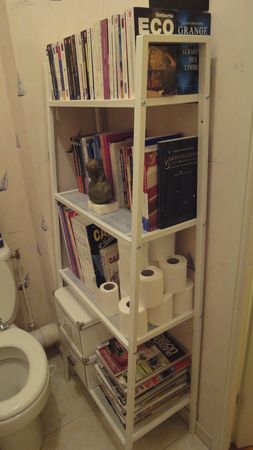 So, what do you think ?
Alors, qu'en dites-vous ?
Next step : moving the bookcase to the kitchen. I can't wait !
Actually, I'm already working on it ... and no, I'm not moving furniture myself - it's one of the privilege of being knocked up - that'll be a job for my husband and my helpful sister Gabrielle visiting this week-end.
Prochaine étape, déplacer la bibliothèque dans la cuisine. J'ai hâte !
En fait, je suis déjà en train de travailler dessus ... non, je ne déménage rien moi-même - c'est un des privilèges d'être enceinte - ça, c'est un job pour Doudou et ma soeur Gabrielle en visite chez nous ce week-end.

Stay tuned !