Hello there ! I know, I know, I have been away for a while, I'm sorry. One of the reason is that I've been working like crazy with my sewing machine for the nursery, and that also means a lot of fabric shopping.
Coucou tout le monde ! Je sais, je sais, je n'ai pas été très assidue ces derniers temps et j'ai un peu délaissé le blog au profit de ma machine à coudre, et de nombreuses heures dans les magasins de tissus de Nantes (Toto, Mondial Tissu, Myrtille ...).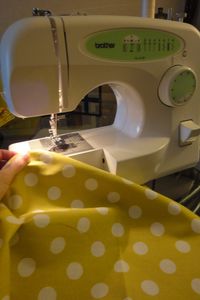 I've had the hardest time finding beautiful fabrics that don't scream "BABY". I don't know about you, but I find the baby fabric, and a lot of baby related items as a matter of fact, quite tacky. And let's face it : especially during the first years of your baby, the decoration is mostly for your eyes, so let's choose fabric YOU like !
J'ai le plus grand mal à trouver de beaux tissus pour la chambre du bébé, surtout que la plupart des tissus pour enfant que je trouve me semblent un peu "gnagnan", je ne m'attarde pas dans ce rayon la plupart du temps. D'une manière générale, je ne suis pas fan des objets de déco pour bébé, alors je vais faire pas mal de choses par moi-même pour que ce soit à notre goût ! Chacun voit midi à sa porte comme on dit. Et puis, soyons honnêtes, la déco, c'est surtout pour les parents, alors autant que ça nous plaise avant tout !
I want the nursery to be joyful, neutral (we don't want to know the sex of the baby), and modern. Most of the furniture won't come from baby stores and I have plenty of time to DIY some fun "art" ! We will be spending a lot of time in this room, so I also want it to be comfortable for us.
J'aimerais que la chambre soit joyeuse, neutre (nous ne souhaitons pas connaître le sexe du bébé), et moderne. La plupart des meubles ne seront pas achetés en magasin de bébé, et j'ai tout le temps de faire moi-même le reste de la déco. Nous passerons beaucoup de temps dans cette pièce (surtout moi qui compte allaiter), alors je la veux aussi confortable que possible.
One of the first thing I wanted for the nursery was a beautiful mobile. I didn't find any that I liked in our local stores nor on the internet, so I decided to make one on my own. I've been dreaming of a bird mobile ever since I've seen this famous one.
Une des premières choses sur lesquelles je me suis penchée est le mobile. Je n'en ai trouvé aucun à mon goût en magasin ou sur internet, je l'ai donc fait moi-même. J'adore ce modèle bien connu dans la blogosphère, notamment américaine.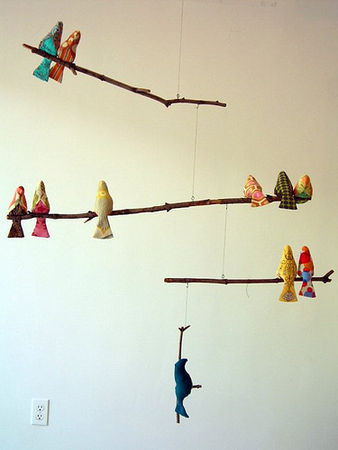 Don't you love it too ?
N'est-ce pas adorable ?
But I did want the mobile to be attached to the crib (we rent our appartment, and we can't do any hole in the ceiling), and to play music. And I also wanted a very specific music, the Brahms Lullaby (it was my baby music, and I LOVE it !), so I orderded the mecanism on internet and I bought a random white plastic mobile in a local store (the music on it is "Over the rainbow" which is quite cool too, and we might switch from time to time).
Mais je voulais que le mobile soit attaché au lit (nous ne pouvons pas faire de trous dans le plafond !), et qu'il soit musical. Je voulais aussi une mélodie bien précise : la berceuse de Brahms (c'était ma berceuse quand j'étais petite, et je l'adore), donc j'ai commandé le mécanisme sur internet (car pas moyen de trouver un mobile avec cette musique en magasin - c'est étonnant non ?). J'ai ensuite acheté un mobile en promo pour avoir la structure (le mécanisme sur celui-là joue "Over the Rainbow", ce qui est plutôt sympa, nous pourrons changer de temps en temps).

Here's the music :



Then I took different pieces of fabric that will be used in the room and after a few hours of sewing according to this pattern (see here - link on the left), and a lot of patience, the mobile was done.
Ensuite, j'ai utilisé une sélection de tissus que nous allons utiliser dans la pièce et je me suis basée sur ce tuto - cliquer sur "Bird Pattern" dans la colonne de gauche (en anglais, mais très simple à suivre). Après quelques heures de patience le mobile était terminé.
All we need now is a crib !
Tout ce qui nous manque maintenant est un lit !
I've find them fun and super easy to make for a unique and personalized result. And we'll be able to change the mobile decor at any time, as the birds are just tied to it with ribbons. I've "tried" it on my 2 months old adorable neighbour, and he seamed to enjoy it, so I guess our baby will like it as well !
J'ai trouvé ça super facile et très sympa à faire, pour un résultat unique et personnalisé. En plus, nous pourrons à tout moment changer le décor du mobile, car les oiseaux ne sont attachés que par des rubans noués. Je l'ai "testé" sur mon petit voisin agé de 2 mois, et il a eu l'air de bien apprécier, alors je suppose que notre bout d'chou aimera aussi.
I've found other DIY bird mobiles based on this pattern, and they all look great ! (click on the picture for the link)
J'ai trouvé d'autres réalisations basées sur ce tuto, et elles sont toutes superbes (cliquer sur chaque image pour voir le lien).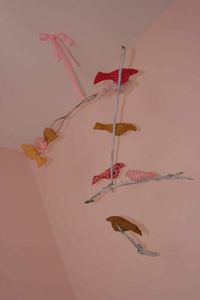 Homemade by Jill (beautiful blog by the way)



Craft & Creativity on Flickr
They look great in a baby room, but they could also be fun in a living-room or anywhere else in the house ! It's a good idea for a baby shower/birth homemade gift, and I guess the birds can be used by the baby as toys (without the ribbon).
Bien sûr, ce mobile est génial pour une chambre de bébé, mais il pourrait être tout aussi bien dans un salon ou dans n'importe quelle pièce de la maison. C'est aussi une bonne idée de cadeau pour une naissance ou un baptême, et je suppose que les oiseaux pourraient servir de jouets pour un bébé assez grand (sans les rubans bien sûr).
I've done other things too, like this cute cube (in about 15 min !) - pattern available here, and some other fun stuff I'll share with you next week.
J'ai créé d'autres petites choses également, je vous en dirai plus la semaine prochaine. Entre autre, ce cube (en 15 min environ) - tuto disponible ici.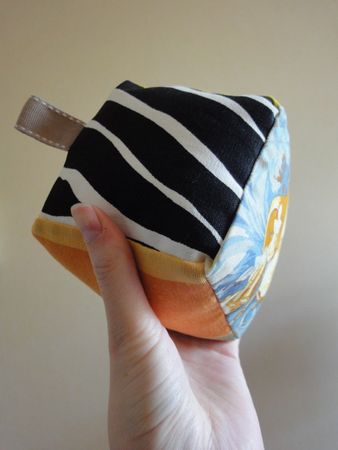 My belly is growing so fast (the picture was taken last week, 16 weeks pregnant). Next week, I'll start the 5th month, yay !
Mon ventre grossit tellement vite (photo prise la semaine dernière, 16 semaines de grossesse - à peu près). La semaine prochaine, j'attaque le 5ème mois !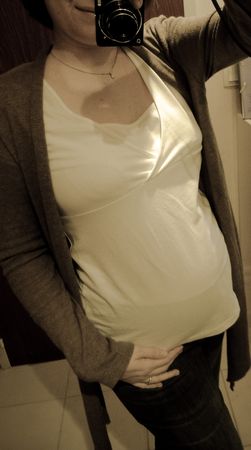 Have a nice sunday ! I'm now heading to the swimming-pool for a relaxing moment with Laurent !
Je vous souhaite un excellent dimanche ! Quant à moi, direction la piscine pour un moment de détente avec Doudou !