For safe nights, it's strongly recommended to keep blankets away from the crib during your baby's first months, and to use sleeping-bag to keep him/her warm without any chocking risk.
Pour des nuits paisibles et sûres, il est particulièrement recommandé de ne pas mettre de couvertures dans le lit des touts-petits, et d'utiliser des gigoteuses / turbulettes pour tenir bébé au chaud sans risque d'étouffement.
This is the 1st one that I make, and it won't be the last. I'll sew more, for exemple :
- once the final fabric for the crib bedding is chosen,
- for different temperatures (baby's due in june - this one as fleece on the back, so although it's super comfy, it might be a little too warm for some summer nights, we'll see),
- and for different ages (babies grow so fast ...) !
Cette turbulette est ma 1ère, et ça ne sera pas ma dernière. Je vais en coudre d'autres :
- une fois que les tissus définitifs du linge de lit (tour de lit notamment) seront choisis,
- pour des températures différentes (le bébé arrive en juin, et j'ai fait cette 1ère gigoteuse avec un dos en polaire, très confortable mais qui pourrait être trop chaud selon les nuits)
- et bien sûr selon la croissance du petit bout (ça grandit tellement vite !)
I've used this pattern. It's not very hard to make and totally worth it when you see the prices of these kind of products in stores !
J'ai utilisé ce tuto, bien connu de la blogosphère (l'avez-vous déjà utilisé ? Je serais heureuse de voir vos turbulettes faites maison !). Ce n'est pas très dur à faire, même pour moi qui suis débutante en couture, et ça vaut carrément le coup quand on connaît le prix de ces petites choses en magasin (avec des looks parfois un peu kitch, et surtout fille ou garçon - peu de choix mixte).
All is left to do now is to sew buttons on the braces.
Tout ce qui me reste à faire, c'est coudre les pressions sur les bretelles.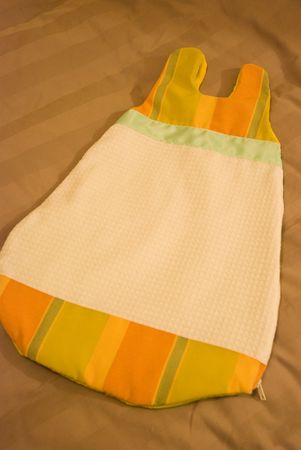 Although I've used a blue ribbon here, but it's not a "we're-having-a-baby-boy" big reveal,
I just thought it was cute, even for a girl
(a bit "Tiffany style" - which I love, see here) !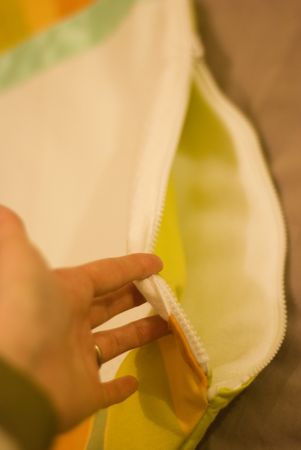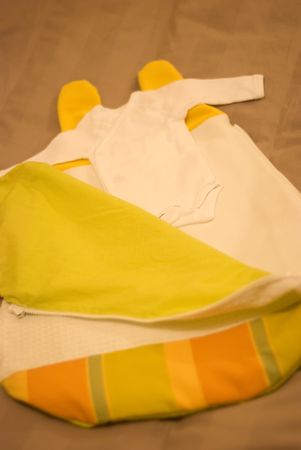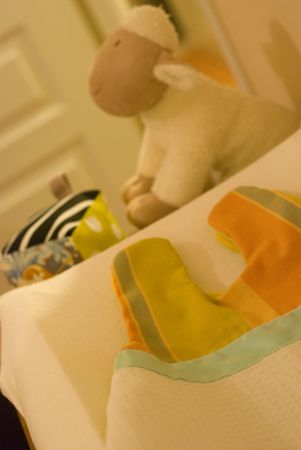 I can't wait to sew another one with different colours and textures ! I've just ordered new great fabric samples.
I'll write a message about the nursery style soon, but I guess you have already a general idea with this project, and this one, and this one. In a word : COLOUR !!
Je suis impatiente d'en refaire d'autres, avec des couleurs et des textures différentes ! Je viens d'ailleurs de commander de nouveaux tissus.
J'écrirai un post bientôt sur le style général de la chambre du bébé, mais je pense que vous avez déjà un petit aperçu avec ce dernier projet, et celui-ci, ou encore celui-là. En un mot : de la COULEUR !