I love Kusudama Flowers (Japanese origami paper flowers). Usually, they're taped together to create balls, but I like them even more individually. Here's the how-to :
J'adore les fleurs Kusudama (origami japonais). D'habitude, elles sont collées entre elles pour créer des boules, mais je les aime encore plus individuellement. Voici les différentes étapes.
1. Select pages of magazines you won't read anymore, or other paper (wrapping paper, maps, anything you want).
1. Choisissez des pages de magazines que vous ne lirez plus (ce qui est pratique, c'est qu'en général, les couleurs sont harmonieuses, surtout quand on utilise les pages "tendance" des magazines de déco ...) ou n'importe quel autre papier (papier cadeau, cartes, tout ce que vous voulez ...)
2. Fold the Kusudama flower following this great tutorial from Folding Trees. (and be patient, this step can take some time, but believe me, it's totally worth it ... and it's super easy to make)
2. Créez vos fleurs Kusudama en suivant ce super tuto de Folding Trees. (et armez-vous de patience, car tout ça demande un peu de temps, mais ça en vaut la peine, croyez moi ! Et c'est super simple à faire)
3. You have now beautiful Kusudama flowers.
3. Vous avez maintenant de superbes petites fleurs.
4. Cut the back of the flower if you wish to frame it (or just to stick it on something)
4. Astuce pratique : coupez l'extrémité de chaque fleur si vous souhaitez les encadrer (ou pour en tout cas les coller sur quelque chose)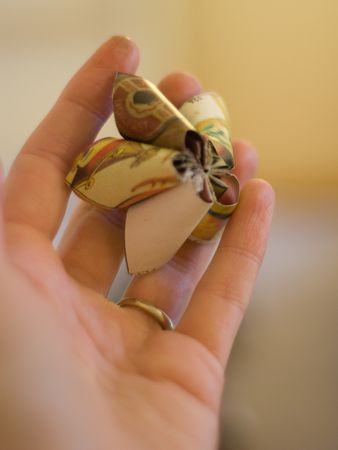 5. Get creative ! Here's 2 frames I created today, just to give you an idea. I've used pins to secure the flowers on the paper.
5. Maintenant, vous n'avez plus qu'à laisser parler votre imagination ! Voici 2 exemples de cadres faits cet après-midi, juste pour vous donner une idée. J'ai utilisé des épingles pour bien solidariser les fleurs sur leur support.



Frame #1





Frame #2 (I removed the glass to make the flower "coming out",
I think that gives a great structure to the whole frame)
J'ai retiré le verre du cadre. De cette manière, la fleur ressort du cadre, et l'effet est (je trouve) plutôt sympa.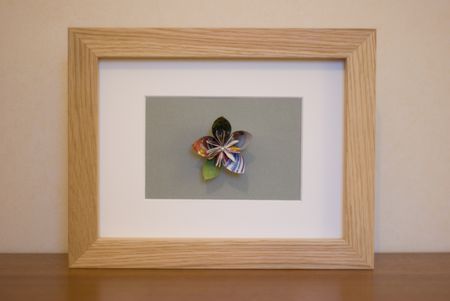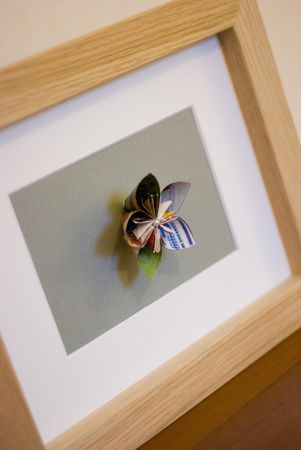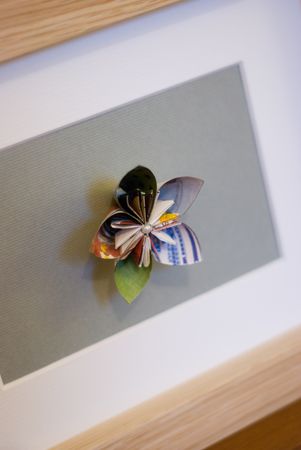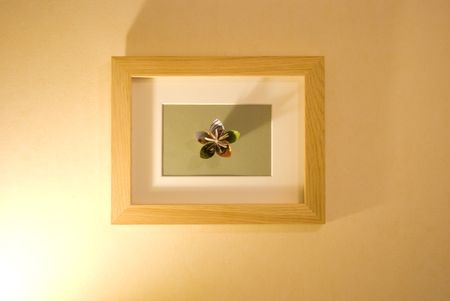 And the greatest thing is ... it's free artwork ! And the possibilities are endless !

Don't hesitate to give me your opinion, and/or to send me pictures of your Kusudama artwork !!


Et le plus beau dans tout ça, c'est que c'est gratuit !! (enfin, surtout si vous avez déjà les cadres) Et les possibilités sont infinies ! N'hésitez pas à me donner votre avis et/ou à m'envoyer des photos de vos fleurs Kusudama !!