Around 1 year before our wedding (in 2008), we started keeping wine corks, because we wanted to incorporate them into the wedding decor. But I started a new job a few months before the big day, and I got REALLY BUSY. I mean, I haven't been able to do most of the things I wanted to do by myself. I just didn't have time (I was soooo tired on my wedding day .... but it was still wonderful).
A peu près 1 an avant notre mariage (en 2008), nous avons commencé à garder les bouchons de bouteille (de vin bien sûr) car nous voulions les incorporer dans la déco. Seulement, quelques mois avant le grand jour, j'ai commencé un nouveau travail qui m'a tenue bien occupée. J'ai du renoncer faute de temps à la plupart des choses que je voulais faire par moi-même pour le mariage. Le jour J j'étais super crevée ... mais c'était merveilleux quand même.
And we never stopped keeping our wine corks ever since, and even our parents are doing it for us ! So now we have a pretty huge collection, and we haven't done anything special with them yet. We simply put them in vases. (I miss drinking wine, sigh ! Can't wait to celebrate the end of my 0%-alcohol-phase after the pregnancy and the breastfeeding)
Après ça, nous n'avons jamais cessé de garder les bouchons, et même nos parents le font pour nous ! Donc maintenant nous en avons une énorme collection, et nous n'en avons rien fait de spécial pour le moment. Ils sont juste dans des vases dans notre entrée. (j'ai hâte de pouvoir boire du vin à nouveau après la grossesse et l'allaitement, ça me manque trop !)
I guess I'm in a crafty mood this week (see yesterday's project here), because this morning, I've actually turned our corks into a board for our kitchen (little surprise for my husband when he comes home tonight, and trust me, he has not time to read the blog during the day ...).
Je suppose que je suis dans une semaine "manuelle" (voir le projet d'hier ici), car ce matin, je me suis décidée à utiliser mes bouchons pour en faire un tableau (bulletin board, je ne suis pas sûre de la traduction en français, tableau d'affichage ?) pour notre cuisine. C'est une petite surprise pour mon cher mari, et croyez-moi, il n'a vraiment pas le temps de lire le blog durant la journée.
That's a very simple DIY artwork, and you can use any kind of frame you already have (this way, it's a free project, yay !), as long as it's more or less the same width than the corks.
C'est un projet des plus simples, et vous pouvez le faire avec n'importe quel cadre (ce qui en fait un projet à 0€ si vous avez déjà le cadre), du moment qu'il est assez profond pour accueillir les bouchons - idéalement, de la même largeur.
I've used a black Ikea frame that used to be in our entryway (see this post back in summer). It matches the dark furniture of the kitchen. I've removed the glass and I've screwed the cardboard on the back, after having applied some beige paper on it (this step is optional, I did it to make sure the back of the board was nice if we happen to see it between some corks).
J'ai utilisé un cadre Ikéa qui était l'an dernier dans notre couloir (voir ce post pour plus d'info). Il est bien assorti au bois foncé de notre cuisine. J'ai ôté le verre, et après avoir collé du papier beige sur le carton (cette étape est optionnelle, j'ai juste fait ça pour avoir un joli fond si jamais il y avait quelques trous entre certains bouchons), j'ai vissé le carton au fond du cadre.
And then I've used my hot glue gun to stick the corks directly on the cardboard. You can give any shape to your collage, according to the final look you want (symmetrical, linear, ...).
J'ai ensuite utilisé mon pistolet à colle chaude pour coller les bouchons directement sur le carton. Vous pouvez leur donner n'importe quelle forme (symétrique, linéaire ...)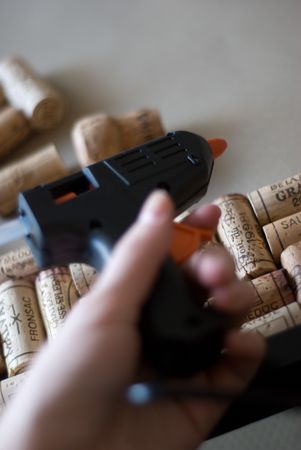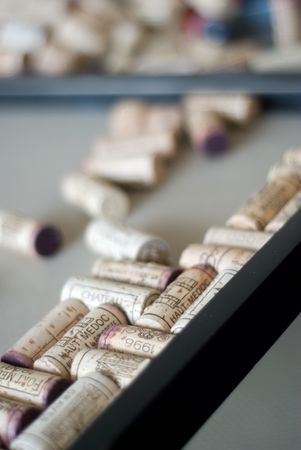 And here's the result, after 2 hours of work. I LOVE IT ! And it's so full of good memories !
Et voila le résultat après 2 petites heures de boulot. J'ADORE !!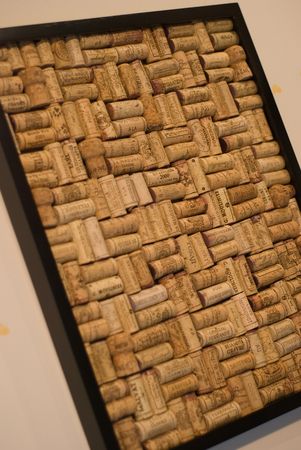 See the before picture here
La photo "avant" est visible ici.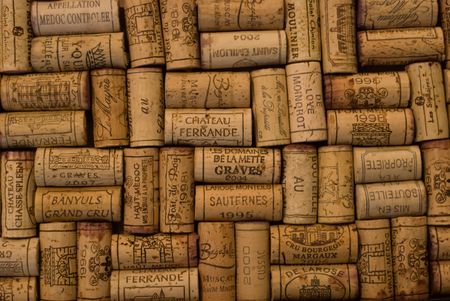 It will be a great bulletin board, but I don't want to hide it under papers just now.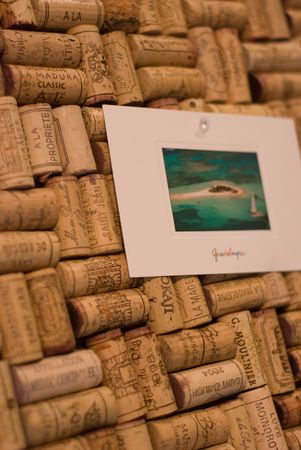 You could also create a tray with this technique, that might be fun too.
On peut aussi appliquer cette technique sur un plateau, ça serait sympa.

What do you think ? Do you use corks in crafts as well ?
Qu'en pensez-vous ? Vous aussi vous utilisez des bouchons comme déco ?