Remember my previous deer head experience ? Well, last week I've decided to explore the "3D side of it" for the baby's room, and I came across this great tutorial. So after a successful first try with some random cardboard, I've made "the real one" using white foam cardboard and some aqua and lime wrapping paper that matches the colours of the nursery.
Vous vous souvenez de ma 1ère expérience de tête de cerf ? Et bien, la semaine dernière, j'ai décidé de tenter une version 3D pour la chambre du bébé, et j'ai trouvé ce super tuto. Alors après un 1er brouillon réussi avec du carton basique, j'ai utilisé du carton-plume blanc pour le définitif, avec du papier cadeau / déco vert et turquoise (en accord avec les tons de la chambre).
And here it is, very easy to make, even if cutting the foam cardboard is tricky, and the edges aren't perfectly smooth ...
Et voila, un projet très facile à faire, même si couper le carton-plume au cutter n'est pas évident, et les bords ne sont pas aussi nets que si la découpe avait été faite ... euh ... par exemple au laser ...
What do you think ?
Qu'en pensez-vous ?
And I applied some fake wood vinyl (the same I previously used here) on one side of the last piece, so I can change the look of the head whenever I want.
Derrière le dernier morceau (la base), j'ai collé du vinyle faux bois (le même qu'ici) pour pouvoir changer le look quand je veux.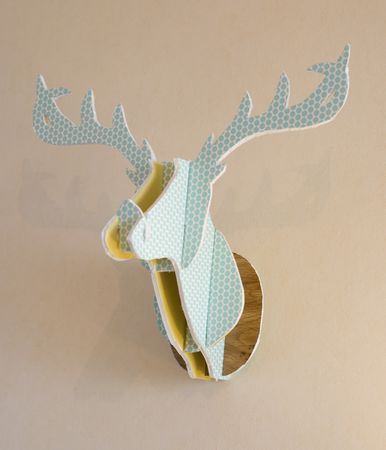 Have a great day ! As for me, I'm off to visit my other sister today, yay !