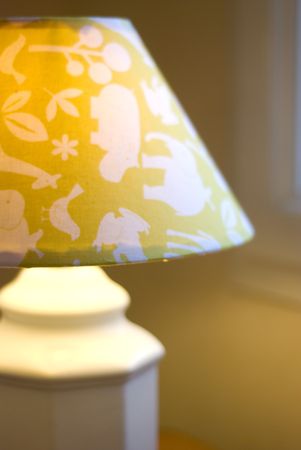 A few months ago, I came across this lovely lamp in a thrift store (for like 2€) :
Il y a quelques mois, je suis tombée sur ce pied de lampe à Emmaüs (pour 2€ je crois) :
I had already spray-painted it in white, and I didn't find any particular use for it. Well, it was before the whole nursery project ...
Je l'avais déjà repeint (avec de la peinture en spray) en blanc, mais je ne lui avais pas trouvé de place idéale dans la maison. Enfin, tout ça c'était avant le grand projet "nursery" ...

I'd also found a very cheap second-hand lampshade in a yard sale a few weeks ago (see here) - around 1€ !
J'avais aussi trouvé il y a quelques semaines un abat-jour dans un vide-grenier (voir ici) - pour 1€ !


So I used some fun fabric I'd ordered on
this (fantastic) website
to cover the lampshade, and voila ! A brand new lamp for less than 5€ ! And my very first lampshade makeover !
J'ai donc utilisé un tissu sympa (commandé sur
ce super site
) pour recouvrir l'abat-jour, et le tour est joué ! Une nouvelle lampe pour moins de 5€ (et mon 1er relooking d'abat-jour réussi)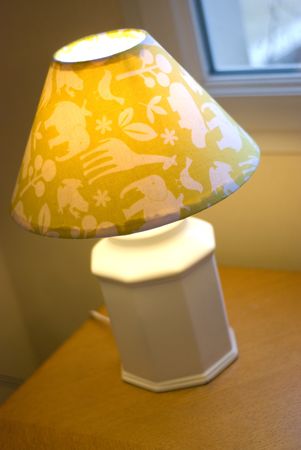 And as the original lampshade was already slighlty colored, the light is very soft, perfect for a baby's room !
Et comme l'abat-jour initial était déjà légèrement coloré, la lumière diffusée est très douce donc parfaite pour une chambre de bébé !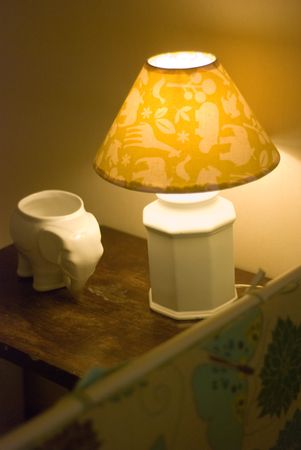 The thrifted side table is another (painting) project to come, stay tuned !
Le guéridon chiné fera lui aussi l'objet d'un relooking, à venir !