Hello everyone, I'm baack !!!
Coucou tout le monde, me revoilà !!!
Well, actually we went back home last sunday, but I've been pretty busy this week, which explains the lack of messages on the blog (sorry !). Our vacation went GREAT !!! We had a wonderful sunny week in Guadeloupe (despite painful water retention issues - one of the joys of pregnancy ...). We got a lot of sleep, and enjoyed some fabulous carribean food. Check out my other blog for pictures here.
En fait, nous sommes revenus dimanche dernier, mais j'ai été pas mal occupée cette semaine, ce qui explique l'absence de message (désolée !).
Notre escapade antillaise a été GENIALE !!! Nous avons passé une super semaine sous le soleil de Guadeloupe (malgré quelques problèmes de rétention d'eau pour ma part - les joies de la grossesse). Nous nous sommes beaucoup reposé (de toute façon à partir d'une certaine heure, je ne pouvais quasiment plus marcher, alors j'étais allongée assez souvent), et nous nous sommes régalés de bonne cuisine créole. Pour voir quelques photos (de mon gros ventre notamment), allez voir mon autre blog ici.
Today, I want to share with you 2 of my last projects. If you're a regular Noces de Coton reader, you might have noticed that I love lamps, and especially thrifting and revamping lamps (for example this one, or this one).
Aujourd'hui, je souhaite partager avec vous 2 des mes derniers projets. Si vous lisez de temps en temps ce blog, vous avez peut être remarqué que j'adore les lampes, surtout les chiner et les relooker (par exemple ici, ou bien ici)
My first lampshade from scratch
Un 1er essai d'abat-jour 100% fait maison
I've been spending some time papercutting lately (see here, and here), and I thought I could start making my own lampshades with this technique. So let's give it a try.
Récemment, je me suis découvert un certain goût pour le découpage de papier (voir ici, ou encore ici), et je me suis dit que je pourrais commencer à créer mes propres abat-jours avec cette technique. Alors voici un 1er essai.

Here are the steps, really easy actually.
Voici les quelques étapes, c'est assez simple en fait.
Cut a paper sheet according to your shade size and shape. For this first try, I've drawn butterflies and cherry blossoms, to give the lamp a spring look. Next time, I'll try a more intricate pattern.
Découpez une feuille de papier au gabarit de votre cadre (ici un abat-jour de 20 cm de diamètre droit - donc un rectangle simple - avec du papier irisé). Pour ce 1er essai, j'ai dessiné des papillons et des fleurs de cerisier, pour donner à la lampe un air printanier. La prochaine fois, je m'essaierai à des motifs plus complexes.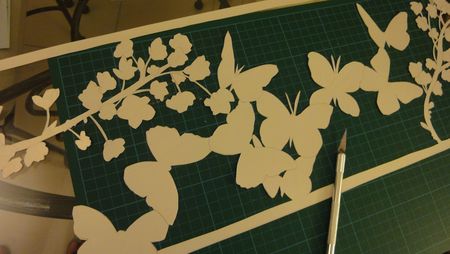 Cut the paper
Déoupez vos motifs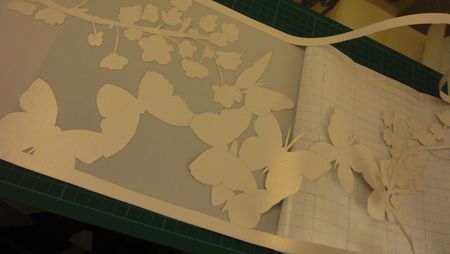 Stick our paper betwen 2 "polyphane papers" (special plastic paper for lighting).
I've used a semi-opaque one for the outside and a clear one for the inside.
Collez votre papier découpé entre 2 feuilles de polyphane spécial abat-jour (j'ai utilisé une feuille semi-opaque à l'extérieur et une transparente à l'intérieur).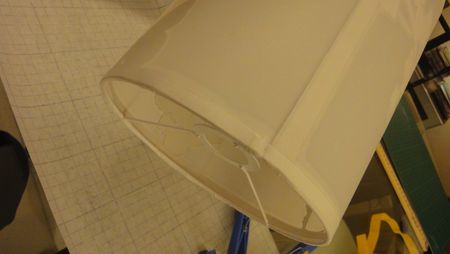 Attache the paper to the lamp structure (2 metallic circles - diameter 20 cm), using some fabric tape. Here's where I need to practice, it's a bit tricky ...
Attachez votre papier à la structure de l'abat jour (ici 2 cercles métalliques de 20 cm de diamètre), en utilisant du ruban en tissu adhésif. C'est sur cette étape qu'il faut que je m'entraîne, c'est pas forcément évident à bien réaliser du 1er coup.
And voilà !!! The lamp was thrifted for 5€, and although I'm not a big fan of wicker, I thought it could make a nice "spring lamp".
Et voilà ! Le pied de lampe a été chiné pour 5€, et même si habituellement, je ne suis pas fan d'objets en osier, j'ai pensé que ça ferait une jolie lampe printanière.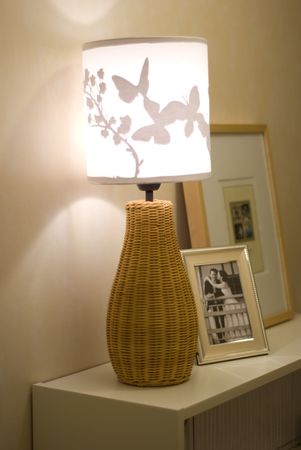 Here it is, with the light off.
Avec la lumière éteinte.

Do you like it ? It's not perfect, but it's a first try !
Elle vous plaît ? Elle est loin d'être parfaite, mais il faut bien une 1ère fois ...
2nd lamp transformation : from dark green ceramic to fresh Carribean turquoise.
La 2ème lampe : d'une céramique vert foncé à un turquoise d'inspiration Caraïbes ...
The lamp was thrifted last wednesday for 4€. After some primer and 2 coats of paint, it gives my living-room a lovely spring look.
La lampe a été trouvée mercredi à Emmaüs pour 4€. Après une sous-couche et 2 couches de peinture, elle donne un air printanier bien agréable à mon salon.


The real colour was even less pretty (a dark green).
La couleur réelle était moins jolie (plus verte et plus foncée), la photo n'est pas complètement "fidèle".

I've used this paint (click on the picture)
Voici la peinture utilisée (cliquez sur la photo pour la référence)




So here it is now !
Et voilà le résultat !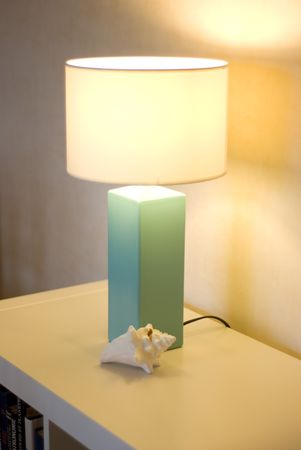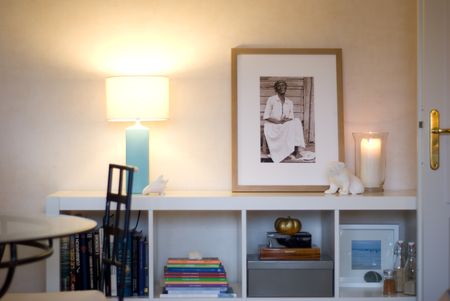 I've added some fresh flowers in the house to welcome spring !! (although it's actually raining this afternoon, bouhh....)
Je me suis même offert quelques fleurs fraîches dans la maison pour accueillir le printemps ! (même s'il pleut des cordes à Nantes aujourd'hui)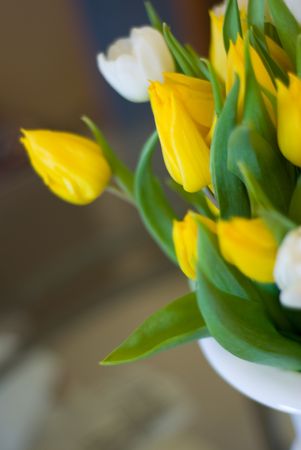 And feel free to visit my other blog A brand new baby for pregnancy and nursery updates !!
Et n'hésitez pas à visiter mon autre blog A brand new baby pour plus de news sur ma grossesse et la chambre du bébé !