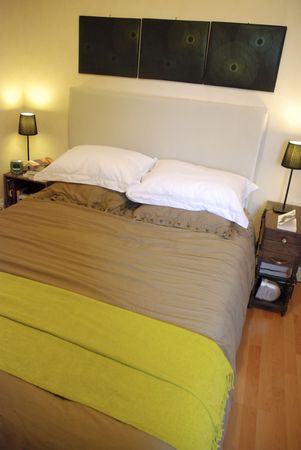 Chose promise, chose due, voici le détail de la fabrication de ma tête de lit (et aussi quelques photos de la déco réalisée aujourd'hui).
As promised, here's the details of my headboard project, and some pictures of the decor that I've created today.
Nous habitons là depuis 3 ans, et je n'ai jamais vraiment réussi à "investir" cette pièce, elle est assez petite (nous n'avons pas beaucoup de marge de chaque côté du lit notamment).
We've been living here for about 3 years now, and I've never felt really comfortable in this bedroom.
Alors je me suis enfin décidée à m'attaquer sérieusement à son aménagement, ce qui passe par un VRAI lit. Au lieu d'investir maintenant dans un beau lit (ce que nous ferons quand nous achèterons une maison, sûrement pour un lit plus grand d'ailleurs si la pièce nous le permet - mon mari mesure 1,90 m ...), j'ai créé l'illusion avec cette tête de lit, qui m'aura coûté moins de 100 euros.
So I've finally decided to do something about it, and that means having a REAL bed. Instead of investing in a new bed (we'll do that when we buy a house, and we'll probably get a bigger bed - my husband is very tall ...), I've created a brand new homemade upholstered headboard, which costed me less than 100$, and gives a more "hotel" look to the entire room ...
Maintenant, le making of (merci à la blogosphère pour tous les conseils de fabrication, notamment Benita). Alors le matériel utilisé pour une tête de lit de 140x120 cm :
Now, the making of (many thanks to all the blogs I've read to get tips, like Benita's for instance). So this is what I've used for a 140x120cm headboard :

- 1 matelas type matelas d'enfant / d'appoint, d'environ 10 cm d'épaisseur (facile à découper) > moins cher que de la mousse sur-mesure / A foam matress (cheaper thant a "cut to size" foam, and as easy to cut), about 10cm thick
- le tissu choisi (prévoir 15 cm minimum de marge par rapport à la taille de la tête de lit) / A nice fabric (at least 15cm larger on each side than the final size of the headboard)
- du tissu blanc basique / ouatine (pour solidariser le matelas et le support) / some batting (same size than the other one)
- 1 planche de la taille choisi (pour ma part, j'ai utilisé plusieurs planches assemblées, car une grande planche ne rentrait pas dans la voiture - pourtant une 307) / A board - wood, MDF, or 2/3 boards assembled to create a big one.
- une agrafeuse murale / A staple gun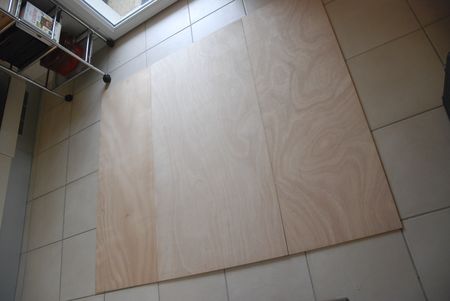 Poser la ou les planche(s) sur un support propre et stable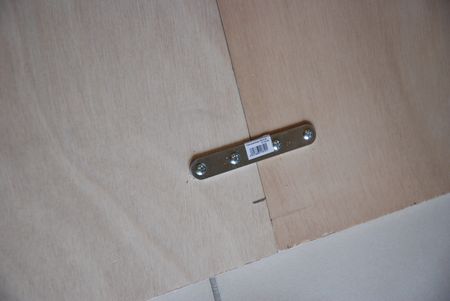 J'ai solidarisé mes 3 planches avec ceci, et puis, une fois le tissu agrafé, la planche sera de toute façon assez solide
I've put my boards together (and the fabric will make it strong enough anyway, so I haven't spent too much time secure every inch of it !)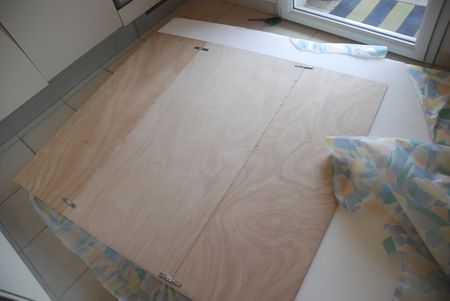 Découper la mousse en se servant de la planche comme gabarit (un couteau électrique est ici très pratique, sinon au cutter)
Cut the foam using the board to get the final size (an electric knife is very practical here, otherwise use a cutter)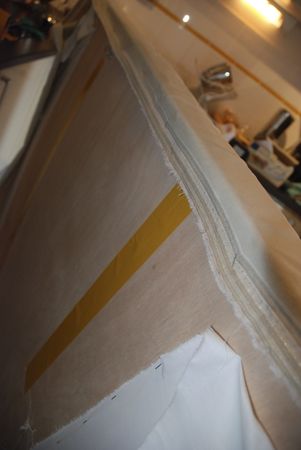 Agrafer en le tirant bien le 1er tissu, puis le tissu final en prenant soin de ne pas faire de faux-plis bien sûr ...
Then staple the batting and the fabric, by stretching them on the foam to get a nice flat look.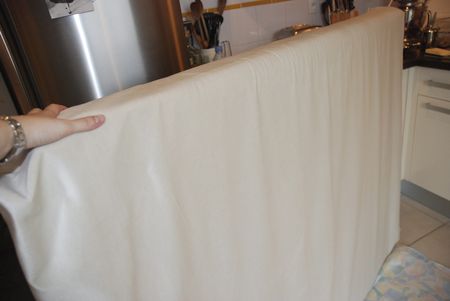 Au milieu de l'étape d'agrafage ...
This is in the middle of the stapling step ...

Et ensuite, le poser simplement derrière le lit, et le tour est joué !! C'est donc très simple !!!
And then I've just put it behing my bed, and voila !

Alors souvenez-vous de ma chambre avant, avec les abats-jour d'été : (vraiment pas terrible, je sais ... )
So remember what my room used to be :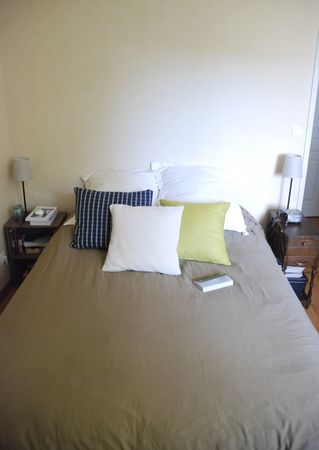 La voici maintenant, avec les lampes version automne-hiver : (un peu mieux donc, et tellement plus confortable)
And this is the 'after' picture (much better, and so comfortable !) :



(petit clin d'oeil à Heidi !)

Ma table de chevet (à droite) est un meuble couture venant de ma belle-famille.
My bedstand (on the right) is a sewing piece of furniture, coming from my mother in law's family.

Comme déco, j'ai simplement recouvert 3 toiles d'un papier-peint trouvé chez Casto, noir avec des reflets irisés verts et bleus, qui évoluent donc avec l'angle de vue et la lumière de la pièce, je trouve ça plutôt sobre, moderne et relaxant.
To create this decor, I've only stapled some wallpaper that I've found in my DIY store on 3 canvas, with a black background, and a blue and green shiny pattern. It changes according to the light of the room. I think it's really modern and relaxing.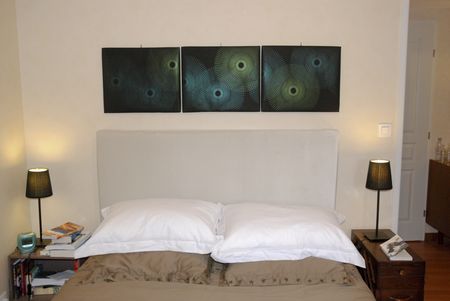 (il faut que je recentre tout ça, je viens de remarquer qu'il manquait 3-4 cm à gauche ...)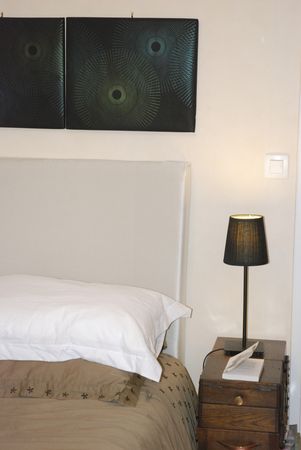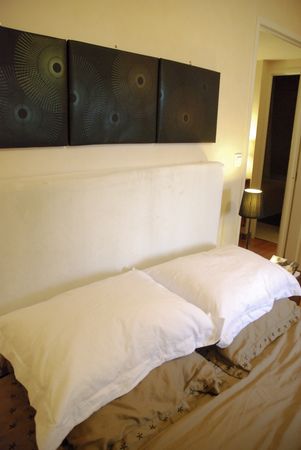 Et voila, il ne manque plus qu'un nouvelle parure de lit, un peu plus élégante ...
Now all I need is new elegant bed linen ...
Et comme j'étais dans ma phase McGyver de la journée, j'en ai profité pour donner un coup de neuf à mes toilettes, par des miroirs en angle pour remplacer mon petit miroir marin acheté la semaine de notre installation (sur un délire, pour coller à la tapisserie immonde de bateaux ... nous louons et donc n'avons pas eu notre mot à dire sur la déco générale), et une toile que j'ai peinte il y a quelques années.
And since I was having a McGyver moment, I've given a quick makeover to my restroom ... With 4 mirrors instead of my ugly sea themed mirror (we rent the place, we didn't have any choice in the wallpaper ... I've chosen this mirror as a joke when we moved in). And I added a painting that I did a few years ago.
Before