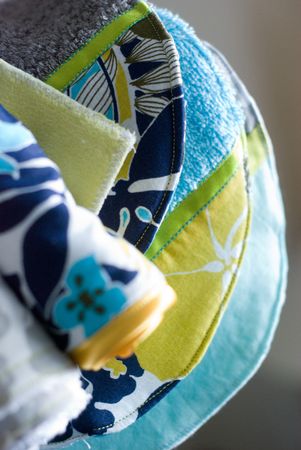 I've found some great fabric during the past few weeks (thanks Agnes and So, your tips about fabric suppliers were very helpful ! And your blogs are great !), so I've started sewing bibs, burb cloths and washable wipes for the baby. For the bibs, I've followed a pattern from this quite famous book (well, famous in France) : Intemporels pour bébés. For the other things, I used simple square and rectangular shapes. Fabric : coton, polar fabric and terry cloth (organic and regular).
J'ai trouvé de super tissus ces dernières semaines (merci Agnès et So pour vos bons plans tissus ! Vos blogs sont géniaux !), j'ai donc commencé le trousseau du bébé avec des bavoirs, des "protège-pull-de-maman-pendant-le-rot-de-bébé" (comment on appelle ça en vrai, en français ?) et des lingettes lavables. Pour les bavoirs, j'ai suivi le fameux patron des Intemporels pour bébé. Pour le reste, j'ai fait de simples rectangles et carrés. Les tissus utilisés : du coton (trouvé à Myrtille Cholet - ils liquident en ce moment, quel bon plan !!!), du tissu polaire, du tissu éponge et du nid d'abeille.

NEWBORN BIBS (0-3 months)
Des bavoirs taille 0-3 mois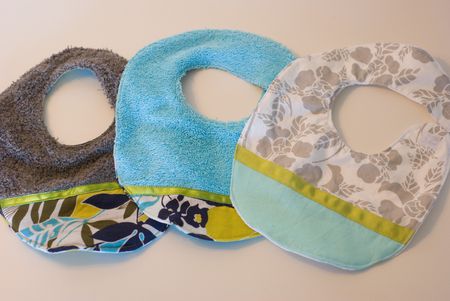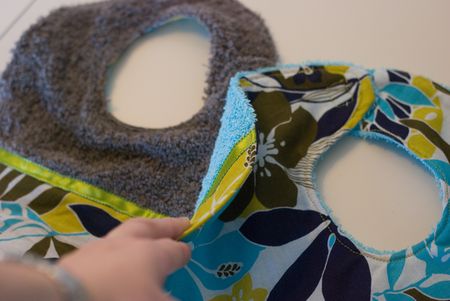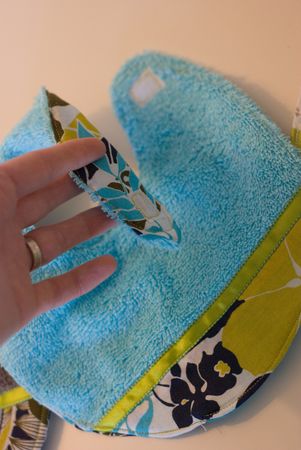 I used velcro on the back of the bibs.
J'ai utilisé du velcro comme système de fermeture, rien de plus simple ...


WASHABLE WIPES
Lingettes lavables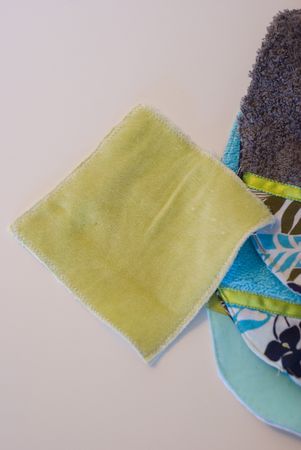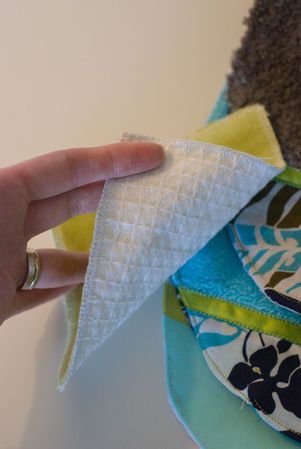 Made with polar fabric on one side and terry cloth on the back
(green alternative to disposable wipes, and very very soft for baby's skin)
Polaire sur une face et nid d'abeille sur l'autre
(alternative "verte" aux lingettes jetables, et très très douces pour les petites fesses de bébé)


BURP CLOTHS
Serviettes "protège pull de maman"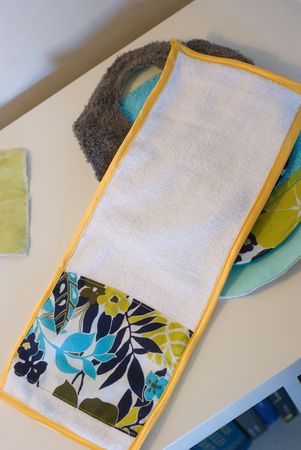 (and my first bias experience, I really need to practice ...)
(et ma 1ère expérience avec du biais, j'ai encore besoin d'entrainement, mais bon, c'est le lot de tout autodidacte ...)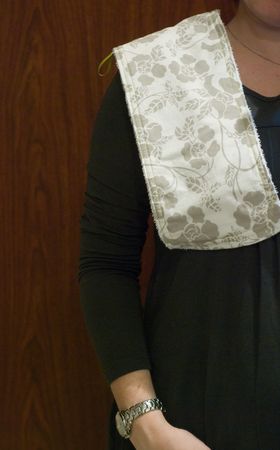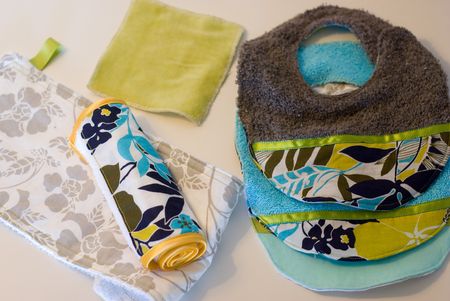 I've already tried one of the bibs on my little 3 month-neighbour, he looked great with it !
J'ai déjà testé un des bavoirs sur mon petit voisin de 3 mois (adorable petit cobaye), il était plutôt mignon avec !


So, what do you think ? I love these fabrics : I think they'll look great for a boy or a girl, and they're perfect for a summer newborn.
Alors, qu'en pensez-vous ? J'adore ces tissus, il iront bien pour une fille ou un garçon, et ils seront super pour un bébé d'été (ahh, l'été !!! Plage, soleil, farniente, apéro, petits-déj dans le jardin .... vite ! vite ! vite ! J'en peux plus moi de cet hiver !).