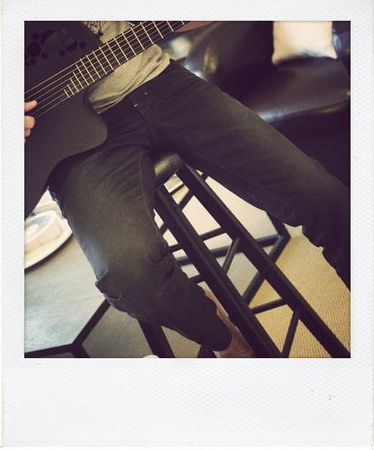 Chose promise, chose due : voici le relooking du tabouret de bar trouvé à un vide-grenier (5€) et transformé pour mon mari.
As promised, here's the makeover of a bar stool found in a yard sale a few weeks ago (less than 5$), and tranformed for my husband.
Je suis donc partie de ça :
This is the before shot :
Un brin banal donc ... à mes pinceaux !
A very boring stool as you can see, but a lot of potential !


Pour la base, les étapes classiques :
For the base, the usual steps :

1/ ponçage / sanding
2/ ponçage encore et toujours / sanding again and again
3/ sous-couche / primer
4/ laisser sécher 24h / let dry for 24 hrs
5/ 1ère couche de peinture satin noire (pour être raccord avec l'une des guitares de Monsieur) / 1st coat of black semi-gloss paint (to match one of my husband's guitar)
6/ laisser sécher au moins 1/2 journée / let dry at least for half a day
7/ 2ème couche de peinture / 2nd coat of paint
8/ laisser sécher au moins 1/2 journée / let dry at least for half a day


Pour le siège
For the seating

1 / le siège étant en bois, je voulais adoucir un peu tout ça pour que ce soit plus confortable, donc j'ai ajouté 3 disques de mousse + 1 par dessus le tout agrafée au-dessous du siège / The seat was in wood, so I added 3 disks of foam + 1 that I stapled to the underside of the seat)
2 / agrafage du tissu (le même tissu que celui utilisé ici et ici, mais en bleu-gris foncé) / Staple the chosen fabric (similar to and here and here, but in a dark blue-grey)
3 / découper et agrafer un tissu sous le siège pour une meilleure finition, ici j'ai utilisé une toile de jeans, comme ça, même vu de dessous, c'est un vrai tabouret de mec ! Cut and staple another fabric underneath the seat for a good finish. I've used some jeans fabric, so even from below, it's a real guy seat !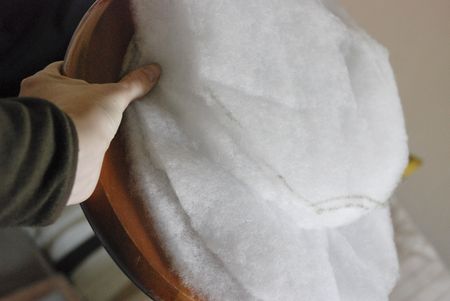 Etape 1 / Step 1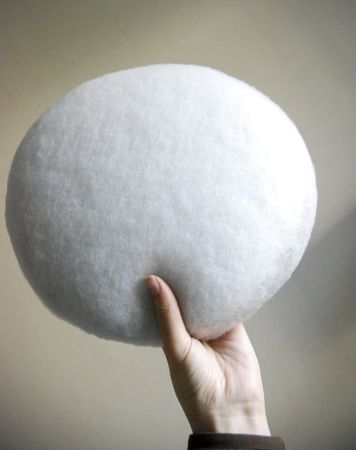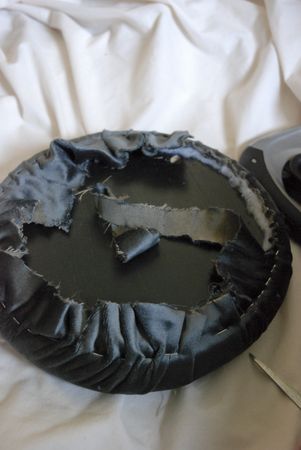 Etape 2 / Step 2

Assembler le tout, et voila !
Put everything back together, and voila !!