It's definitely a crafty week over here ! I can't help myself : I have to create !!! And also, as we are going on holidays in March (in Guadeloupe), I'm in a "let's-DIY-pretty-things-on-a-budget" phase. So after having used them to make flowers, I wanted to do another project using my old magazines (I have too many of them anyway, so I have to make some room for new ones).
Bon, je suis officiellement en mode "activités manuelles" cette semaine : il faut que je crée ! De plus, nous partons en vacances en Guadeloupe en mars, alors je suis dans une phase "créons de jolies choses sans exploser le budget". Après avoir recyclé certaines pages de magazines en créant des fleurs, je voulais continuer sur ma lancée et faire quelque chose de nouveau avec mes vieux magazines (ce qui me permet de gagner un peu de place en plus).
I've always liked those recycled magazine wreaths (see here for example), and I figured it shouldn't be too hard to make a mirror with this technique (kind of a sunburst inspired mirror actually).
J'aime bien les objets utilisant des magazines recyclés (voir un exemple ici), et je me suis dit que ça ne devrait pas être trop dur d'utiliser cette technique pour faire un miroir.
The only things I've bought is a piece of thick white cardboard, and a set or mirrors (they didn't sell them one by one, so I've had to buy 6 - around 3€ in total). So it's like a 2-3 € project. And it's worth much more as it's unique, and "green" (using old magazine pages).
Les seules choses que j'ai acheté sont un morceau de carton-plume blanc assez épais et des miroirs (oui, "des" car C...rama ne vend pas des miroirs à l'unité, et impossible d'en trouver dans les magasins d'arts créatifs du coin. Mais bon, à 3€ les 6, ça va). C'est donc un projet à 2-3€ de budget. Et ça les vaut bien : non seulement vous créez par vous-même un miroir unique, mais en plus vous recyclez vos papiers !
The different steps :
1. Take pages from a magazine, and cut them in half.
1. Arrachez des pages de magazines (proprement) et coupez les en 2.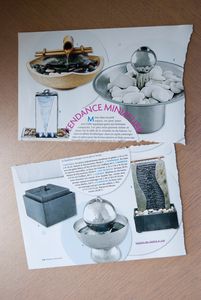 2. Roll each piece like this, using a bbq stick. Glue the end of each roll (a tiny drop of glue is enough)
2. Roulez chaque morceau de papier en vous servant d'un pique de brochette (pour qu'il soit bien fin). Posez une goutte de glue à la fin du rouleau (vous verriez mes doigts ce soir, une catastrophe, alors faites attention à ne pas vous en mettre partout !)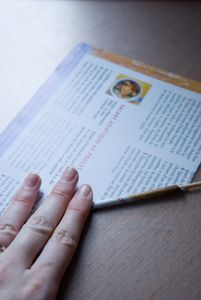 3. Cut a circle out a carboard (make sure it's strong enough, cause it'll be hung on a wall)
3. Découpez un cercle de carton (il faut qu'il soit assez solide, car vous accrocherez le tout au mur une fois terminé)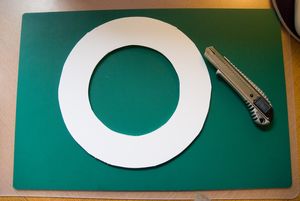 4. Stick the paper rolls all around the circle. I guess there are easier ways to do it, but I've first sticked all the papers and then I've given them an even round shape using a cutter.
4. Collez les "bâtons" de papier autour du cercle. Je suppose qu'il existe des manières plus simples de faire ça, mais j'ai d'abord collé les bâtons, et seulement ensuite je les ai taillés pour donner à l'ensemble une forme ronde harmonieuse.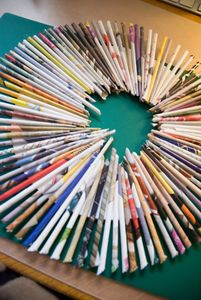 Now you have this result. You can enjoy it this way, without adding anything to it. You can also paint it.
Vous arrivez à ce résultat. Vous pouvez aussi le laisser tel quel, sans y ajouter quoi que ce soit. Vous pouvez aussi le peindre.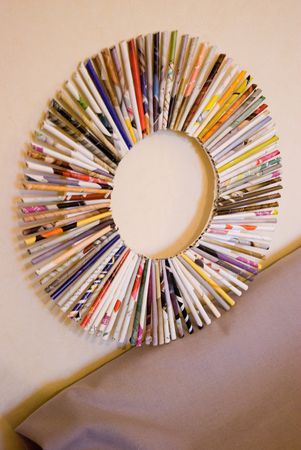 5. Then I've taped a mirror on the back, and added another circle with turquoise ribbon directly above the papers rolls. And voilà !!
5. Dernière étape : j'ai collé un miroir derrière le carton, et ajouté un autre cercle de carton recouvert de ruban turquoise. Et voilà le travail !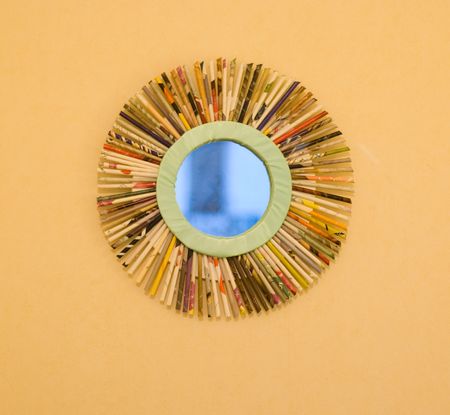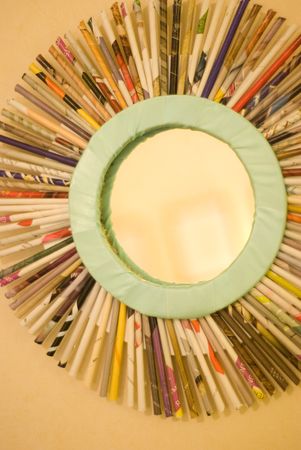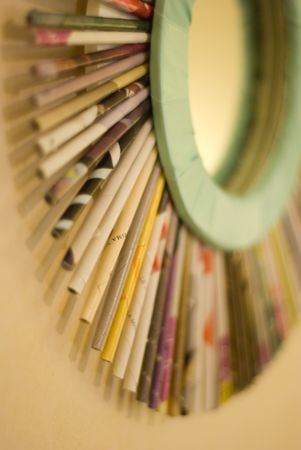 You can add anything to it : paper butterflies (great for a girly look), or even paper flowers all around the mirror !
Vous pouvez y ajouter ce que vous voulez : des papillons en papier pour un look girly, ou même des fleurs (en papier) !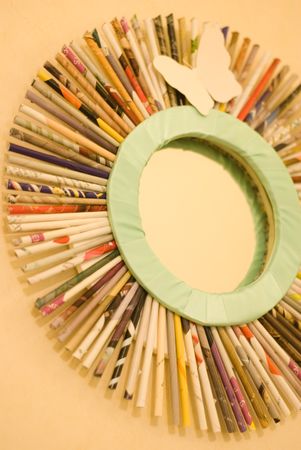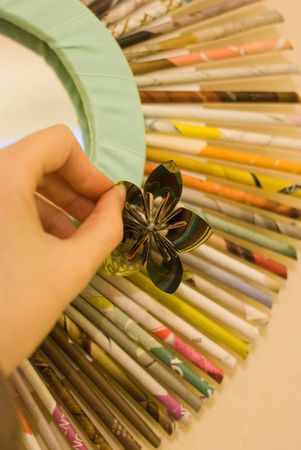 I might use it in the nursery, we'll see. So what do you think ?
Je vais peut être l'utiliser dans la chambre du bébé, je ne sais pas encore. Alors, qu'en pensez-vous ?
FOR THE FINAL LOOK, PLEASE TAKE A LOOK HERE !!