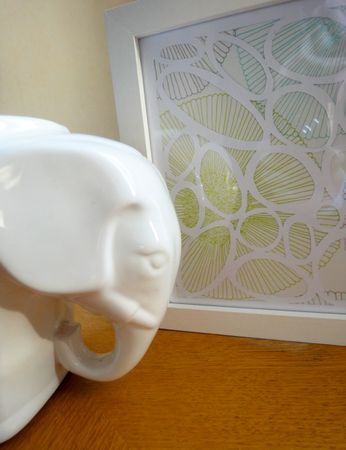 Hello everyone !
I hope you had a great week-end. For today, here's a simple, cheap yet lovely way to create unique framed art. I used some thick white paper, some wrapping paper and an Ikea frame (have I ever mentioned that I love those ?). On the final picture, you can see a ceramic elephant that I've found in Emmaüs (the French Goodwill) last week. I'll probably use it in the nursery (alone or with a plant).
Coucou tout le monde !
J'espère que vous avez passé un excellent week-end. Au programme aujourd'hui, un cadre original, simple et très économique, avec la technique du "papier découpé". J'ai utilisé du papier épais blanc, du papier-cadeau (pour le fond) et un cadre Ikea (vous ai-je déjà dit que je les aimais beaucoup ?). Sur la photo finale, vous verrez un éléphant en céramique que j'ai chiné la semaine dernière à Emmaüs, il est creux, et servira sans doute dans la chambre du bébé (tel quel ou avec une plante).
The possibilities here are endless, you can use fabric for the background, geometrical papercuts, different frame shapes, just be patient and careful while cutting the paper !