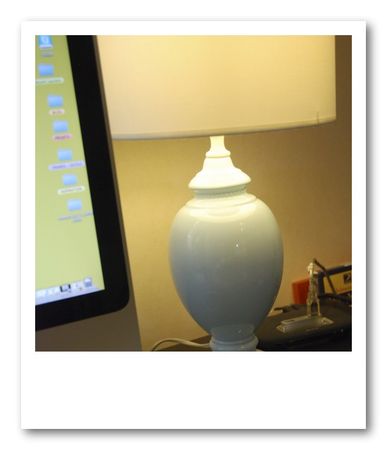 Jusqu'à présent, mon bureau ressemblait à ça :
Until now, my home office looked like this :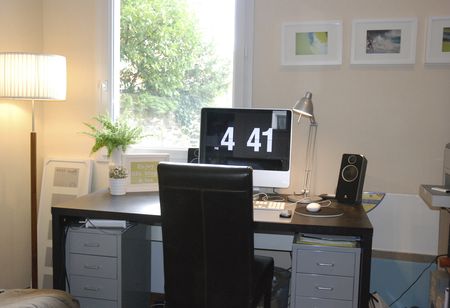 Ma lampe de bureau : Ikea bien sûr ! Bien quelconque tout ça ...
My office lamp : Ikea of course (bought a few years ago) ! Boring, boring, boring ...


Comme j'adore cette lampe trouvée chez Emmaüs pour une bouchée de pain, (que j'avais initialement placée dans mon couloir sur ma commode années 50), et que je voulais en profiter un peu plus que dans le couloir, je l'ai simplement déplacée sur mon bureau. Et quel joli (et super rapide) relooking !
I love my new lamp found in a thrift store for like 2$ (placed on my mid-century dresser), and I wanted to enjoy it more than in my corridor, so I moved it to my office table ! And here's a nice super-fast makeover !


En fait, quand j'y repense, je n'avais pas tellement besoin d'une lampe dite "de bureau", alors autant en avoir une jolie sous les yeux lors de mes nombreuses heures sur vos blogs !
When I think about it, I didn't really need a proper "office lamp", so I figured : let's enjoy a beautiful table lamp during the long hours I spend every day reading all your blogs !

Et dans mon couloir alors ?
I bet you wonder : what's now in my corridor ?

J'ai mis une autre lampe (pied trouvé dans un vide-grenier pour genre 2€), et j'ai accroché l'illustration trouvée ce week-end. Je ne suis pas encore totalement convaincue de la déco, mais j'y travaille !
I've put another lamp (base found in a yard sale for less than 2$), and I hanged my Parisian fashion XIXth century illustration. I'm still not totally convinced by the decor, but I'm working on it !


Hope you like it !